Monthly Archives:
April 2022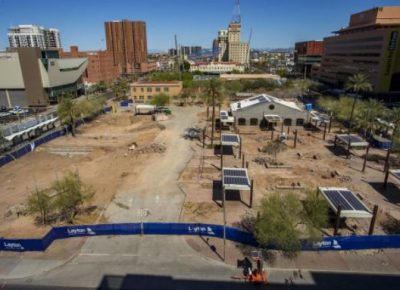 Article originally posted on The Phoenix Business Journal
Phoenix Mayor Kate Gallego said the upcoming Central Station development in downtown Phoenix is going to be the answer for several things missing from that part of town right now.
The development, which a groundbreaking ceremony was held for on April 13, will be built on 2.6 acres in downtown Phoenix between First and Central avenues and Van Buren and Polk streets.
Central Station will have housing for students and young professionals, restaurants, coffee shops, flexible office space, and it will be home to primary downtown bus and light rail transit center. Gallego said this project will bring more people to downtown Phoenix.
"There is an ever-increasing interest in the downtown campus from ASU students, and they spend time here and they want to live downtown," Gallego told the Business Journal. "There are so many amenities and fun things to do, and we are hearing that students want to be in the middle of it all. We need student housing in a wide variety of configurations."
Central Station, which is being developed by Houston-based Medistar Corp., with GMH Communities and CBRE Investment Management, will have a 22-story student housing tower that will have 655 beds and all apartments will be fully furnished. The tower will have micro-studios for those who want to live alone and up to four-bedroom units for those looking for more of a group living situation.
Second tower
Along with student housing, the development will have a second tower – 33 stories – that will include 362 apartment units.
"We still have a relatively small portion of our downtown workforce that lives downtown, I'm excited for the option to change that," Gallego said. "This will be the type of project where you don't need to own a car. There will be one million transit connections in your front yard. I think that will be very attractive."
The developers said there will be a number of amenities for residents including barbecue grills, fire pits and a resort-style pool.
The building will also feature 70,000 square feet of state-of-the-art flexible creative office space, something Gallego said is in demand in downtown Phoenix.
"We are very excited about the creative office space," Gallego said. "We are seeing more and more corporate headquarters who want to be here and they really value high-quality building space that is move-in ready. This will be a great asset for us on the economic development side."
The Central Station project has been in the works for years and was delayed a bit longer because of the Covid-19 pandemic. Gary Holloway Jr., the president and CEO of GMH said during the groundbreaking that the project will cost more than $300 million to develop and should be finished in about 900 days — or in the fall of 2024.
The project was designed by Gould Evans, and Layton Construction will serve as general contractor.
When originally announced, the city and the developers boasted about a hotel and grocery store being part of the project. The developer has nixed the hotel plans, and Gallego said that the retail options are "still evolving to meet downtown needs." The ground floor of the project will include 30,000 square feet of retail space that the developers said would focus on "food-oriented concepts."
The project, which was approved by the Phoenix City Council in 2019, was a result of a request for proposals the city released to redevelop the station. The city will continue to own the land and Medistar will lease it for a 99-year period. Over 99 years, lease payments to the city will generate $171.5 million, city officials said at the time. Interested developers were required to incorporate the transit uses — two light rail stations and a bus station — into the designs. The construction of the project is planned to incorporate those transit elements without interrupting service.
Monzer Hourani, CEO of Medistar said during the groundbreaking ceremony that the Central Station was conceived with the idea of human connection in mind. That the project will connect people together in new ways, he said. How the project is designed and how it will connect to the Civic Space Park and the light rail and bus stations, will make it unique in Phoenix, he said. "This is a new type of product for us in Phoenix," Gallego said. "I love that there is no back to the building. It interacts with the park. It interacts with the downtown streetscape. It is very active."