Rail giant BNSF Railway wins bid for 3,500 acres in far West Valley for potential multi-modal facility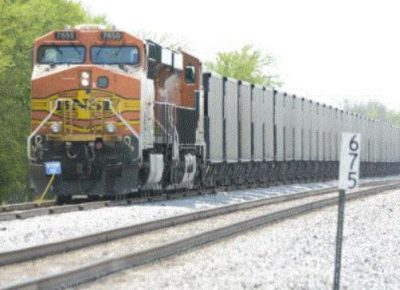 Article originally posted on Phoenix Business Journal
Texas-based BNSF Railway Co. was the winning and sole bidder for a 3,508-acre piece of land at an Arizona State Land Department auction held Wednesday morning.
The giant freight company won the auction at the minimum bid price of $49.11 million, or approximately $14,000 per acre, for the massive piece of land located in the Wittmann area just outside of Surprise. It's also located along BNSF's main line and U.S. Route 60.
BNSF said in a prepared statement on Wednesday that is sees Arizona as an important area for economic growth and development and that it determined the land could be a good long-term investment.
"BNSF looks forward to working with state and local governments in Arizona, as well as customers, to determine how best to develop the land into an economic engine in the West Valley," the company said in a statement. "BNSF is proud of its 125 years of contributing to the Arizona economy and will be working with stakeholders in the following months to develop this property."
Behind the deal
The winning bid comes after BNSF started the long process to buy the state trust land in late 2020. The company formally applied for the auction about a year ago and received approval from the commissioner in January 2022.
An appraisal was conducted in July 2021 by Scottsdale-based Wayne Harding & Associates, which concluded the minimum bid price after comparing six land sale prices ranging from $8,000 to $25,000 and adjusting for factors like size of the land, site improvements, zoning and market conditions.
Public records show that BNSF wanted to buy the land for a multi-modal rail transportation and shipping facility and a logistics center with associated warehousing, which could be similar to its other inland ports in metro areas like Chicago and Dallas-Fort Worth.
The auction also moved forward on Wednesday after the state rejected more than 30 oppositions it had received from longtime Wittmann residents. Many said they were opposed to BNSF's plans for the property, which is part of a larger grazing lease, due to concerns about pollution, increased truck traffic, limited infrastructure, safety and the environment.
Some were also opposed to the minimum bid price, citing the recent sale of the Chrysler Proving Grounds for $125 million, or $22,092 per acre, to Apple Inc. But the appraiser determined this sale was less reliable since the property was already incorporated into and zoned by the city of Surprise and has other improvements.
Now, the rail company is a step closer to building a facility similar to what it has envisioned for the Valley since the 2000s, when it wanted to build a rail yard, automotive shipping facility and 16 million square feet of warehouses on 723 acres in the rural community.
The plans proposed in 2007 were also met with backlash from Wittmann residents and ranchers, who protested to the city of Surprise for months. Reports at the time said construction was expected to start in 2012, but the project never came to fruition.
Documents said construction on the new plans could start by 2025 with an opening date of 2028, but BNSF previously said it was "too soon" to know what will be built on the property. To build the facility, BNSF will also have to request a rezone in Maricopa County or a major general plan amendment and rezone in Surprise.