As we face a looming post COVID-19 recession, many investors are scanning the markets in search for 2022's best Phoenix commercial real estate opportunity. While COVID hit the American public hard, one thing it didn't stop was commercial growth in cities like Phoenix, Arizona. Brokers, builders, and real estate developers have recorded record numbers in 2021 and the first half of 2022. With sales numbers up and vacancy rates down, investors are flocking to Phoenix to snatch up opportunities – especially in the case of new office construction.
In years past, Phoenix was often considered an afterthought to more lucrative opportunities in cities like San Francisco and Seattle. However, in 2022, it seems the circumstances have flipped. The future now holds far more potential for Phoenix commercial real estate, as compared to the city's western rivals. In this article, we will dissect the commercial real estate market in Phoenix, and determine whether or not it really does hold 2022's biggest opportunity.
Construction Demand in Phoenix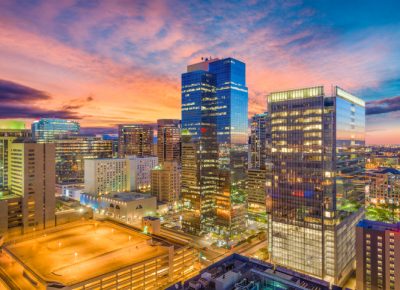 When it comes to construction demand, only two cities bested Phoenix's numbers 2022. Dallas led the country in terms of total square feet deliveries with 15.9 million square feet. Right behind Dallas, Indianapolis and Phoenix posted numbers of 7.9 and 7.7 million square feet respectively. With nearly 44 million total square feet under construction, Phoenix sits behind only Dallas, which posted numbers of nearly 57 million square feet under construction.
When compared to the "lucrative" commercial investment opportunities in cities like Seattle and San Francisco, Phoenix has a much better outlook in 2022 in terms of construction demand. Reportedly, Seattle has only a fraction of new construction underway when compared to Phoenix. Seattle currently has just shy of 8.4 million square feet under construction (compared to Phoenix's 44 million). At the same time, San Francisco has only around $6.1 million square feet under construction – a number that has been trending down year-over-year.
There are many reasons that can explain the disparities between Phoenix's construction outlook, and that of Seattle and San Francisco. Some of the more important reasons include rising interest rates and outrageously high construction costs. Reportedly, San Francisco has the highest construction costs in the world, at an average of $440 per square foot. Right behind them is Seattle at nearly $350 per square foot. Meanwhile, Phoenix clocks in at an mere $150 per square foot. The drastic differences in these numbers may have something to do with the reason why both new residents and commercial investors are flocking to Phoenix in droves.
Office Vacancy Rates
Investors looking for office pre-leasing opportunities may want to reconsider options in cities like Seattle and San Francisco. Despite having a history of consistent commercial real estate development, Seattle currently has one of the worst office vacancy ratings in the country. With a 19% vacancy rate in Seattle's business district and 11% in the tri-county area as a whole, the city has little to show for commercial leasing opportunity. Seattle is currently experiencing one of the worst declines in office leasing throughout the country, coupled with a slowdown in hiring from the city's big tech companies.
The outlook for San Francisco is no better than Seattle's. With economists estimating a 2024 vacancy rate to be as high as 53%, investors are struggling to come to terms with the city that once was.
On the other hand, Phoenix is trending up in 2022, with a direct vacancy rate of 6.5%, and a total of 12.2 million square feet of office space available. By the same statistic, Seattle and San Francisco have 31 and 18.7 million square feet available respectively. With companies in tech and finance expanding beyond or moving altogether away from the cities like Seattle and San Francisco, Phoenix is filled with a growing buzz around office leasing opportunity.
Outlook for Office Development in Phoenix
In the aftermath of COVID-19, many investors are leery to stake new claims in the commercial office environment. Given the growing work-from-home sentiment in the world today, it would make sense for office construction to slow down. However, Phoenix has seen quite the opposite effect.
With Class A office space seeing quarter-after-quarter increases in new leases, it's hard to argue against Phoenix's office market potential. With popular office spaces in Phoenix's surrounding areas of North Tempe, Scottsdale, Midtown, and Chandler, the area as a whole currently supports over 5 million square feet in leasing activity.
Comparatively, the greater Seattle area supports just over 1 million square feet in leasing activity – a number that's expected to decrease in the final two quarters of 2022. The disparity in leasing activity may have something to do with the rent prices. Average asking rents for office space in Seattle currently hover around the $40 per square foot mark, while Phoenix clocks in at only $27 per square foot.
At the top of the office market in Phoenix sit Amazon and Peloton, both of which have been purchasing more and more real estate in the area. Amazon specifically announced a pause on their Seattle office tower construction. Halts on new construction, coupled with growing overall costs, are speculated to be the reasons as to why major tech companies are fleeing Seattle and the Silicon Valley for better opportunity in cities like Phoenix.
A Final Assessment of the Demand for Commercial Real Estate in Phoenix
While the city hasn't been thought of as a lucrative commercial opportunity in the past, the sentiment towards Phoenix is quickly changing. With a resilient job sector, consistent population growth, and attractive commercial real estate inventory, Phoenix is attracting the eyes of investors across the country. Industry titans like Amazon, Peloton and Stewart Title setting up shop in Phoenix doesn't hurt the city's outlook either.
Although the demand for new commercial real estate in the west coast cities of Seattle and San Francisco is currently slowing down (and even coming to a complete stop in some cases), the demand in Phoenix is reaching heights unseen before. Be it in the spaces of industrial, retail, office, or multi-family, there is no denying the city's current opportunity. Don't be surprised if Phoenix winds up the top target for commercial real estate investment by 2023.