The future of office space is certainly UNCERTAIN. Changing job markets, outdated properties, and rising interest rates are among the many factors impacting a beaten office market. Since pre-pandemic, the office space has experienced as much turmoil as any other submarket of commercial real estate.
The office space market is expected to have a vacancy rate of around 18% by 2030. Many operators in the space have been forced to come up with creative solutions to stay ahead of the changing landscape.
In this article, we take a dive into the challenges and solutions you can expect to see commonplace in the office space throughout 2023 and beyond.
Office Space Vacancy Rates
Office vacancy rates have been on the rise across the nation. In cities like Houston and San Francisco, vacancy rates range as high as 25%. The numbers are undoubtedly concerning, but those of us in the space would do good to remember that the real estate office market almost always moves slowly. Nonetheless, many firms are finding utility in the space by revamping outdated properties or repurposing that space altogether by converting it to lab space or residential units.
Overall, office vacancy is projected to rise before coming down slowly by 2030. By those projections, the office market would have a vacancy rate of 18% at the end of the decade, a number that mirrors where we stand today. However, 18% is a far cry from economists' estimate of a healthy vacancy rate at 12-13%.
How the office space can overcome trying vacancy rates
Vacancy rates have become a major concern for all operators in the office space. A great example of how operators can combat this is in what Dallas-based property owner Woods Capital has done with a multi-million dollar office space in the downtown district. The management company battled double digit vacancy rates for years until they repurposed the property entirely and transformed it into over one hundred apartment units and a hotel.
Similarly, California-based Greenlaw Partners recently converted a 1980s office building in Ventura County into an Amazon distribution center. Less than a year after the property's transformation, the developer was able to sell the property – with a 15-year lease with Amazon in place – for a hefty profit.
This deal, and other deals like it, showcase how property owners can revamp obsolete office space, especially when they are transitioning into industries with soaring demand and ever-increasing rents.
More Challenges in the Office Space
Outdated Space: The U.S. office market is estimated to hold 330 million square feet of obsolete space by the end 2023. It's a daunting concern, especially when considering that 70% of the nation's office buildings were developed before 1990.
Hybrid Workforce: The changing job market and transition to at-home jobs has left many office employers to adopt a hybrid work structure. It's a trend fitting with the changes in technology and innovation we are already seeing in commercial real estate. The emphasis on at-home work and concern for antiquated workspaces are closely tied together. Many professionals simply prefer the comfort of working from home. In fact, 68% of Americans recently claimed they would rather work from home than the office.
For more information on just how operators are facing a market filled with outdated office space and a demanding workforce, checkout another one of our recent articles: Aging Office Buildings in 2023
Of course, there is always location to consider. It's estimated that 50% of office vacancy is located in only about 7% of office markets in the nation. Certain regions, including the southwest, are primed to recover quicker than others.
Hot Trends in the Office Space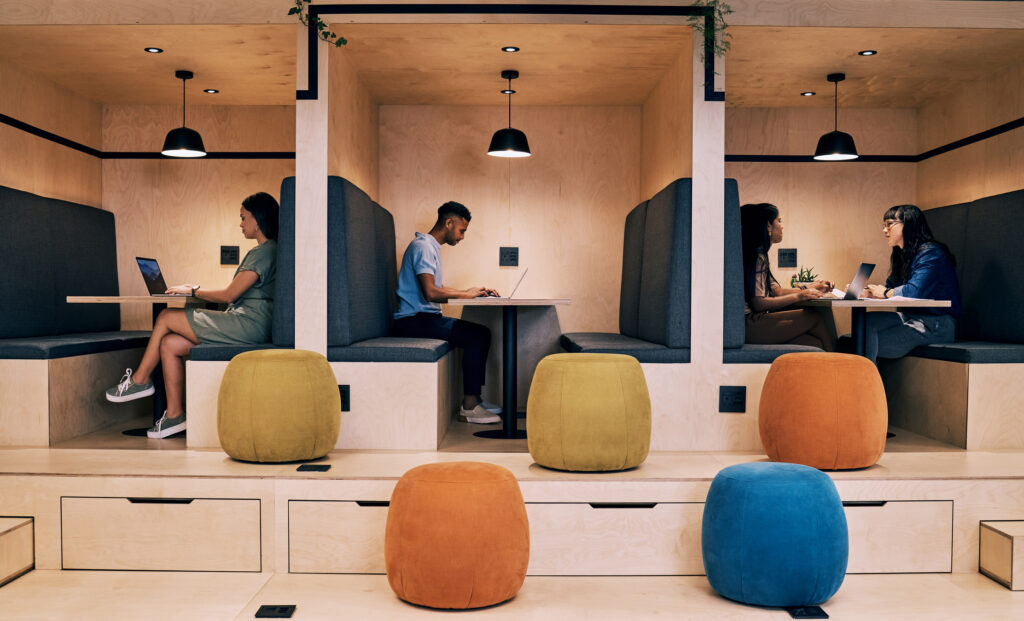 While the industry is certainly experiencing trying times, there still remains opportunities within office as a whole. Much of this opportunity will come in the form of capitalizing on the expectation for growing markets. Employment in the office space alone is expected to grow over 6% by 2030.
Hospitality-Like Experience
The first way that operators can meet the demands of tomorrow's office market is by offering a more 'Hospitality-Like Experience' for their tenants. A recent study suggested that this hospitality-like experience is favored by 91% of tenants in the office space. The emphasis on providing a more comfortable workspace is expected to bring back a large number of the workforce that's been working from home post-pandemic.
Technology
Another study recently conducted – the VTS Global Landlord Report – showed that 57% of landlords believe that technology will play a fundamental role in their navigating the current financial impact within their ventures in the office space. Prioritizing technology has been a top concern of many office proprietors in 2023.
The VTS report also highlighted the importance landlords are placing on improving tenant relationships. In that regard, 86% of them believe technology can help advance tenant relationships, provide better tenant experiences, and increase tenant retention overall.
Landlords are currently using touchless tech to enhance their tenants' experiences. Additionally, more and more landlords are redeveloping their office spaces to include food and beverage options, as well as communal areas and building management systems.
Emphasis on Tenant Retention
For operators in commercial office space, retention is a big key among objectives as well. VTS stated in their recent report, "Landlords are taking a serious look at how their portfolio compares to what is available on the market and what tenants now expect." The state of today's economic climate has caused investors and property managers to pay closer attention to how they can keep good tenants.
A majority of today's landlords lack insights into tenant attrition and the intricacies of what their tenants are really looking for in a space. These issues have led many operators in the office space to consult with experts who may be able to help rationalize the risk of more tenants leaving.
Office Space Opportunities in the Sun Belt
While there is no denying the concern for the current state of the office market, critics haven't been shy to acknowledge opportunity in the Sun Belt markets – including states like Arizona, Texas, and Florida. In Phoenix, many property owners have undergone revamping older office spaces to make them more suitable for tomorrow's workforce.
The innovation and improvements we've seen in Phoenix have turned it into one of the country's hottest office markets. If you're looking for more information on the current state of the Phoenix office market, feel free to reach out to us at ICRE Invest.